Welcome to Treetops School Parent Section
As we prepare to begin our 2023-2024 school year, we require that every family review the Treetops Student/Parent Handbook and Student Code of Conduct below.
After reviewing the handbook, please
print, sign, and return pages 93 through 108 (where applicable)
within the first days of school. These forms are due prior to students receiving their school issued Chromebook and Google Suite login information.
Back to School Information
GENERAL INFORMATION - Getting Started UPDATED Aug. 10, 2022

The earliest your child may be brought to school is 7:35 a.m. No supervision is provided before or after school hours (After School Program is separate). Our school hours are as follows:
Kindergarten and 1st: 7:55 a.m.–3:30 p.m.
2nd-4th Grades: 7:55 a.m. –3:30 p.m.
5th–12th Grades: 7:55 a.m. –3:45 p.m.

Parking Lot Procedures

Treetops' parking lot procedure requires cooperation from all drivers to ensure a safe, smooth pick-up and drop-off of students. For purposes of traffic flow, drop-off times for all students are 7:35–7:55 a.m. Because of staggered release times, there are two pick-up time ranges (shown above).

ARRIVAL drop-off: Teachers will be on duty at 7:35 am to unload cars.
KG teachers unload one car at a time.
1st - 4th will unload 5-6 cars at a time in the loop at the elementary building
5th - 12th will unload 2-3 cars at a time in front of the high school building.
Teachers will open the rear passenger door for your child. Students may NOT exit the car on the driver side. Students need to have their belongings easy to access as to not hold up the carpool line (PLEASE DO NOT TRY TO UNLOAD FROM THE TRUNK). This is the same procedure for pick-up, just reversed.
DISMISSAL - WE BEGIN LOADING CARS AT THESE TIMES:
Kindergarten and First Grade (at the Kinder building): 3:30 p.m.
2nd-4th (at the Elementary building): 3:30 p.m.
5th-12th (on the upper school side of campus): 3:45 p.m.

Kinder and 1st Grade students who have older siblings dismissing at 3:45 may be picked up at the kinder building at 3:30 p.m.
2nd - 4th Grade students who have older siblings dismissing at 3:45 may be picked up at the Elementary building at 3:30 p.m.
We will not walk younger students over to their older siblings.
WAITING IN YOUR CAR FOR THE DROP-OFF & PICK-UP LINES TO BEGIN
Do not block the entrances.
KG and 1st Grade pickup-line starts after the last teacher parking space.
2nd-4th pickup-line starts against the chain link fence about a car length away from rain cover. Please do not pull up to the sign (in front of covered parking) until 3:15 p.m.
5th-12th pick-up line pulls up to edge of gate and waits on the shoulder of S. Pipeline without blocking traffic.

If arriving and waiting before 7:40 and/or before dismissal, please start line on the shoulder on S. Pipeline without blocking the entrance. This allows for staff and student drivers to park in their designated areas. A teacher will wave you into the drive when they are ready for the line to start. Students exit the passenger side of the car only.
Texas School Immunization Requirements: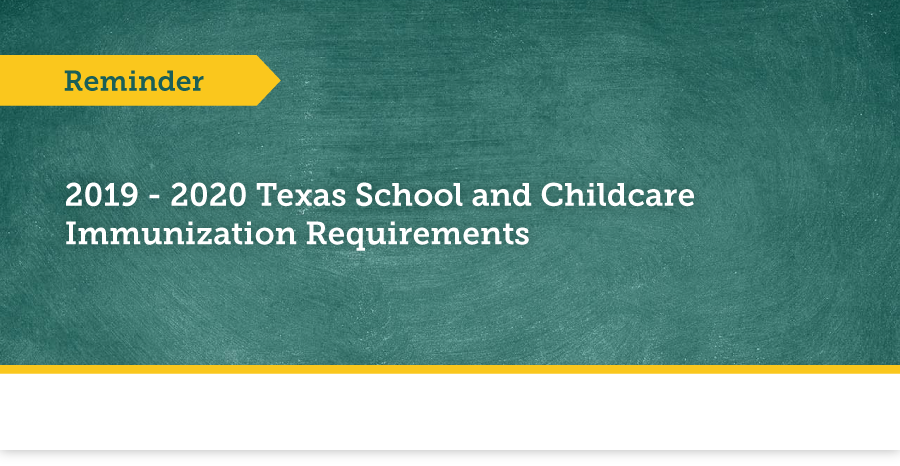 Before the students leave for the summer, we want to send a friendly reminder regarding the required vaccines for the 2019-2020 school year. Please remember to comply with the Texas minimum requirements for school entry. Students must be up-to-date with their vaccines or have a valid vaccine exemption in order to attend school. The documents are also available on the Department of State Health Services (DSHS) Immunization Unit Texas School and Childcare Facility Immunization Requirements website under the Forms and Publications tab.

If you have any questions, please call us at (800) 252-9152 or email us at immunization.info@dshs.texas.gov.
Best,
The DSHS Immunization Unit
Graduation Requirements

Treetops High School Graduation Requirements
Grade Point Average: A student's grade point average is determined by all grade points accumulated from courses taken for high school credit.

Parent Portal (Gradebook)
Attendance/PEIMS
Contact:
DeeDee Bocanegra
817-283-1771
Email: registrar@treetops.org
Please click on the links to find additional information such as Enrollment Packet/Back To School, Parent Portal (Gradebook) and Background Check Form.
Attendance:
If your child will be late or miss school, please email the Attendance Clerk at registrar@treetops.org. Be sure to list your child's name, grade level, and reason for missing.
Thank you
About Treetops' Co-Op Hours

Treetops is a parent/teacher cooperative. We ask that each family donate 60 hours of their time to the school. This may be done in a multitude of ways such as helping teachers in classrooms, driving on field trips, and helping with supplies and cleaning. Also, you can help anywhere on the campus not just the class your child is in!

For each $10=1 co-op hour.

If you purchase items, please attach the receipt to the co-op sheet.
If driving for a Field Trip, the teachers will designate the number of hours.
For carpooling, 1 way = .3 per day for 1 child and .6 for both ways.
If you substitute, record who you subbed for.
When helping the teachers with cutouts, classroom projects, copies, etc. record your hours or how may copies you made.
Check out the teachers wish lists listed on our website under "How You Can Help" or make a flat donation.
All volunteers must pass a criminal background check and obtain a visitor's sticker from the office. Please fill out a co-op sheet the DAY you do the work and have a teacher sign it and bring it to the office.

Questions concerning co-op are directed to Ms. DeeDee at deedeebocanegra@treetops.org or the office (817-283-1771). Criminal Background forms are available online under "How You Can Help." Teacher Wish lists will be on teacher sites AND under the Wish List section.